Carve out the Good Times
Have fun with these fall festivities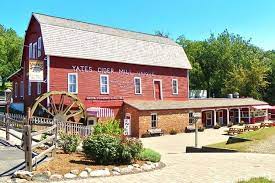 The smell of the crisp and sweet apples and cider flew through the air, and the delicious, sugary taste of the donuts enveloped the family's taste buds at Yates Cider Mill.
There are many local fall festivities that people can do in November. Three of these things are the Macy's Thanksgiving Parade, tree lighting in Partridge Creek, and going to Yates Cider Mill. These activities can be fun for everyone, like families and pets. These fun festivities will surely make your November great and full of fun and excitement!
In Partridge Creek, there will be Christmas trees on November 17. Patch explains how, "The Nov. 17 tree lighting event will be filled with twinkling lights, Santa's cheery greetings and activities for the family." These lights will be fun for people of all ages. Everyone can tour the outdoor mall and gaze at the fascinating Christmas tree lights.
A couple days later on Thanksgiving, another festivity will take place.
Macy's website states, "watch our 65th parade live from the streets of NYC or on NBC 9AM-noon in all time zones, Thurs. Nov. 25." This parade has become a tradition for many Americans, and it definitely isn't something to miss out on on Thanksgiving. Whether the people are right there in the cold, crisp weather watching it, or if they're watching it on your television, it's always entertaining to watch.
Another festivity that is entertaining with a lot more to offer is Yates Cider Mill.
Yates explains that their cider mill is "one of the most popular local attractions in the fall for those who live in" their "area as well as tourists from all over the U.S. and around the world." This cider mill is truly a Michiganders staple in fall. Every autumn, every year has to have gone at least once to pick their delicious apples, eat the sugary donuts, and dunking them in their sweet and delicious cider.
The family's next destination after going to Yates Cider Mill would be the Macy's Thanksgiving parade once it's Thanksgiving. This time, they aren't just watching it from their television; they're going to experience it in person. These experiences will truly make their November memorable.