Michigan's War on Vaping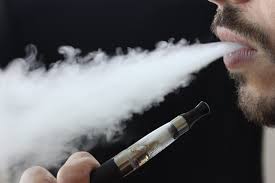 Michigan lawmakers are at war with vape companies. First came the flavored vape ban in October 2019, and now a new policy arises, forcing companies to temporarily stop selling vape cartridges containing THC and to send remaining cartridges in for additional testing. 
THC, formally known as tetrahydrocannabinol, is the main psychoactive component present in marijuana. 
The new recall comes after a string a dangerous vape-related illnesses. The Center for Disease Control reports there have already been over 16,000 life threatening cases across the country. As of October, the death toll is up to 36 people and that number is only on the rise.
A large majority of these illnesses can be traced back to counterfeit vape cartridges, like "Dank Vapes," a fake brand that is popular in the cannabis black market. These counterfeit vapes contain Vitamin E acetate which has been scientifically proven to be very dangerous–even deadly–when inhaled into the lungs. The Vitamin E acetate is used to dilute the THC but the consequences of this are deadly.
"Michigan has seen 58 cases of vaping-related severe lung disease, including two deaths and nationally we've [had] nearly 2300 hospitalizations. This epidemic hits home with the first double lung transplant performed here at Henry Ford Hospital for a teen whose lungs were irreversibly damaged and would've died without transplant," Oncology PA Rachelle Wright said. "The life threatening effects are known and should not be ignored. What is unknown is how many additional people will suffer in the short term and what the long term effects of vaping on lungs will be."
On December 1, Michigan made history by beginning the legal sale of recreational marijuana, and many were disappointed that THC vape cartridges wouldn't be on shelves for the occasion. The new policy, which began on November 22, has made many marijuana dispensaries upset as they see the effect of this in their sales.
Although the legal age to purchase recreational marijuana in Michigan is 21, many high schools have been having a serious problem with students using THC vapes during the school day. Because of how easy they are to conceal and get away with, many teens are ditching traditional pot for the electronic alternative. Not only is this illegal, but it can have detrimental effects on their health. 
There isn't a set date for when all THC cartridges will be back on the market, but as companies complete and pass their testing they are given permission to continue with sales. With all of the legal action being taken in Michigan, the future of newly founded recreational marijuana industry is up in smoke.