Causing A Racket
Senior Rylee Hesske joins the 17 boys on the new court.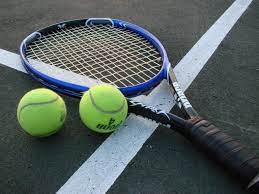 As spectators gather around the tennis courts, one thing stands out to them. 
This fall sports season, the boy's tennis team is welcoming a new member to their team. Senior Rylee Hesske plays on the varsity boys tennis team. She has decided to play on the boy's team because she plays softball during the spring sports season and wanted to try a new sport.
"I decided to play because I play a spring sport, and I have been wanting to play tennis for a while. This year it just happened to work out that I could play in the boys' team," Hesske said. "Everyone has been really welcoming so it was nice to make new friends."
The 17 boys on the team are ready to continue the season with the new teammate. While she's a new addition to the team, she continues to bring a positive attitude and encourages others. 
"She likes to encourage us and always finds a way to stay positive and keep us positive, using encouraging words," junior Andrei Barbu said. "I think it's pretty cool how she's trying out to be on a boys' team and trying something new. Surprisingly, there aren't really many differences between how we play, you kind of just hit the ball and call it a day."
A girl being on an all boys team isn't as separated as it might seem.  The boys welcomed her with open arms as they cheered her on for her small victories. She continues to influence the boys in their practices and matches. 
"I think it's a really cool thing giving a girl an opportunity to play a sport that they will enjoy, since they can't play it during the girls' season," tennis coach Stephen Nellis said. "It lets girls know they have the option to play boys tennis if they can't play during the girls season. It also shows the boys and everyone that if someone sets their mind to something, they can achieve it."
Rylee shows others that if they want to do something, they can do it, and not to accept limitations or barriers. The spectators don't just see a new addition to the team but see athletes working together and encouraging each other.