Out With a Hit
20 time tennis champion, Roger Federer, announced retirement.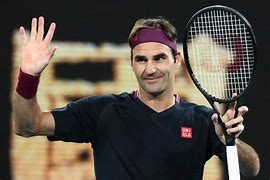 A childhood hero to many. Roger Federer, 20-time Grand Slam champion has announced his retirement.
Roger Federer has announced his retirement from tennis after winning twenty Grand Slam titles due to injuries. He made the decision to close his career at the Laver Cup which will take place from Friday September 23 Sunday September 25. He will be playing it in doubles with Raphael Nadal. There are many questions regarding Federer's retirement like how do people feel? Did he leave a good mark on tennis? and would he be considered the best player? Here are some answers from students. 
"His retirement wasn't that big of a shock because he had many injuries and hasn't played in many openings recently," senior Zinah Abdulhadi said. 
According to ESPN, when he started experiencing knee injuries, he was removing himself from tours; the last tour he played was at Wimbledon in 2021, after which he got his third knee injury. Despite his knee injuries and not playing since the Wimbledon 2021 open, Nadal and Djokvic didn't get too ahead of him and that shows that Federer will remain one of the best players and his retirement doesn't change the mark he left on tennis.  
"He definitely did leave a good mark; he was one of the best players and won twenty titles and he was always in the top three with Djokovic and Nadal." senior Alexandra Prevaj said.
His past openings were remarkable. He was ranked world number 1 by the Association of Tennis Professionals for 310 weeks, including a record 237 consecutive weeks. Federer was known as the God of tennis and left a historic mark on the hall of fame. His two biggest rivals Djokovic and Nadal also reached the heights that he has. 
"In my opinion I would say Novak Djokovic is the best player, but Federer is up in the top three considering everything he has done for tennis and the records he holds," freshman Joseph Juncevic said. 
The genius of tennis, Roger Federer is ending his career as a Tennis player. The last time we will see him play will be a historic moment.