Building Bridges
Famous activist releases children's book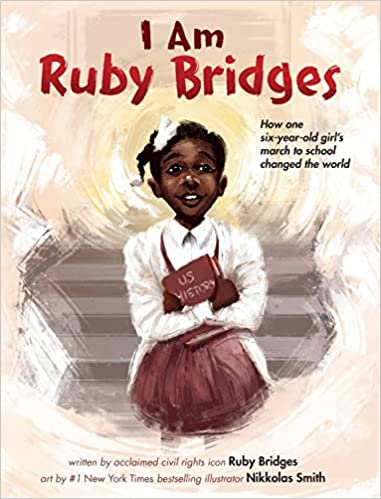 Braving a hateful crowd, a first grader stands tall. In her new children's book, civil rights activist Ruby Bridges recounts her story in the hope it will help educate and inspire young people.
Titled "I Am Ruby Bridges," the picture book is based on her experience as the first black student to desegregate an all-white school in 1960. It details her journey at William Frantz Elementary, from her initial escort there past shouting mobs to the harassment she continuously encountered while learning. Additionally, a glossary of relevant words and colorful illustrations is included to make the story more accessible to children.
"I think it's really important for people's stories and experiences to be told and spread," senior Morgan Jowett said. "We can better understand what happened in those times, and make sure that history doesn't repeat itself, especially pertaining to civil rights."
Literature like Bridges' that discusses racism has become increasingly controversial in recent years. Together with restrictions on teaching critical race theory, many such books have been banned in schools and libraries across the nation. Nevertheless, Bridges has professed her hope that her story will push through unjust censorship and encourage kids to see past racial differences.
"Teaching children about racism and its history is highly important and should be implemented into students' curriculum at an early age…," senior Mykalyn Peguese said. "From day to day actions, to civil rights movements, opinions about people and how they are treated based on their skin color has affected the lives of many, and their experiences should not be overlooked. Children should not be taught about America's history without the topic of racism, especially because it is a key part of America then and now."
Likewise, the activist also states that her book is written with a sense of innocence and lightheartedness to make learning about history more fun. This makes sense for her young audience; accessible learning makes educating kids easier and more effective. Bridges believes that especially for non-white children, the opportunity to see a young, historically black figure succeed is invaluable in empowering them to be comfortable and confident in their identities.
"I think children can be positively affected by having diverse role models," freshman Dean Gallucci said. "They can learn more about civil rights and the different stories of people who are involved in that movement."
A first grader enters William Frantz Elementary, making history. Ruby Bridges' powerful account of her experience is certain to motivate young children to uplift others and advocate against racism in their schools and communities.