Watch Out for Holes!
Sets are built, lines are rehearsed and lights are readied for action as the theatre department prepares their next production, Holes.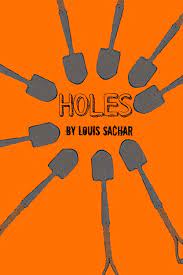 This year's fall play is coming up quickly, and students should be sure they have all the information they need to attend the production at our school. 
"My role in the production is Mrs. Collingwood," junior Rylee Hesske said.
I'm excited for people to see a commonly known book/movie from when they were younger brought to life on stage!"
The theatre version of Holes is adapted from the acclaimed 1998 novel of the same name, written by Louis Sachar. It tells the story of Stanley, a teenager accused of a theft he didn't commit and sent to Camp Green Lake, a juvenile detention center in the Texas desert. The main mystery of the book centers around the unknown reason that Stanley and his fellow inmates are tasked with digging one hole each day at the camp.
"I'm on crew. I do makeup and sound,"  junior Kaitlyn Block said. "This is my first year on sound, but I've been on makeup before. I'm excited for the entire crew basically, the crew and cast is gonna work really hard to pull it all together."
The talented team behind the production have indeed been hard at work in order to bring the novel to life on the stage. Holes will be shown in the Ford Performing Arts Center for a limited time in mid-November. On November 11 and 12, the show will run from 5-7 p.m., and on November 13, the show will run from 4-6 p.m.
  "I'm playing Zigzag, one of the kids at Camp Green Lake in Tent D," junior Morgan Jowett said. "I'm really excited for the flashback scenes because they tell a really interesting story."
After the cast and crew finishes preparing the production, make sure to catch Holes on stage this November, courtesy of our theatre department!