The Ascend of Among Us
The online game Among Us is making a come back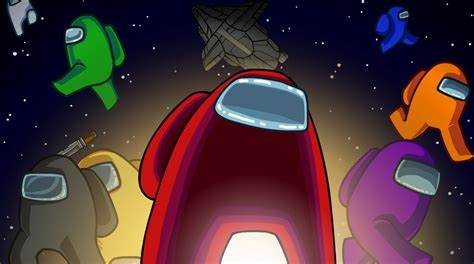 3..2..1.. There is 1 imposter among us. The new online game Among us came out in June 2018 but recently this game has skyrocketed in popularity with many downloads. Among us is set in Skeld, which is the main map of the game set in a spaceship. Starting in 2019, two new maps were launched: Mira HQ which is a space base, released on August 8 2019, and Polus which is a set on a planet, released on November 12 2019. 
The game has been more popular now than it was when it first came out, due to the popular streaming site "Twitch." You can play on your mobile device or even on PC. Currently, it is the third most played game on steam, a video game distribution app. The game has 10 million owners on steam alone, those numbers also don't account for how many people own the game on a mobile device.
The game is quite simple, you are one of 4-10 players on a ship with up to 3 imposters, the imposter's main goal is to kill everyone else on the ship. The remainder of players are part of the regular crew who tries to survive and complete their tasks. The crew has a set number of individual tasks or they can find the imposter and vote them out survival style. If they succeed, the crew wins, but if the imposter manages to kill everyone on the ship he/she wins.
The map Skeld has 14 different rooms that are all connected to 7 hallways. Everyone spawns in the Cafeteria, one of the main rooms, and then everyone on the ship will go to the rooms and complete their tasks. While the imposter does not have tasks, they can fake "completing" certain activities as a way to gain everyone's trust. Everyone has the opportunity to call an emergency meeting or upon seeing a dead body, to report it to everyone else.
 If you are the imposter, your main goal is to convince others that you did not murder the other players, while the crew has to figure out that it is you. When a meeting or dead body is found, a voting system is put into play. If they suspect you, you need to come up with a good story to prove your innocence, but if they all vote for you, you are eliminated from the ship and that will reveal if it really was you or not.
When you die or get voted off and are not the imposter, you become a ghost, which means you cannot communicate with the others, however, you can still communicate with other ghosts. But, you can still help the crew win by completing your unfinished tasks even though they can not see you. The good thing about this is if you are an imposter in a game with multiple imposters you can still sabotage a room which comes in handy when trying to win.
When in the lobby before the game starts players can customize your character. There are up to 12 different colors. These colors include Red, Blue, Green, Pink, Orange, Yellow, Black, White, Purple, Cyan, Brown, and Lime. Players can also choose from different skins, hats, and pets to attach to their appearance.
When looking at the skins and pets some of them are there for your usage and free but other full clothes skins cost money. There are 39 free hats to try on and use and if you press the money symbol it takes you to pets, which there are ten of, and 15 full outfits that the hats match too. Some cost $1.99 while others cost up to three dollars. But the good part is if you buy one sometimes you get two pieces of clothing or more that come with it.
The creators made a sequel to the game but cancelled it because of how great the first game is, but instead they will put the ideas and new developments in the first Among Us. The developer InnerSloth has announced what users of this game can look forward to. These include, fixed server issues, colorblind support, a friends system, and a whole new stage.
Look out folks. Among us is making its way, download the game and try it out now! You won't be disappointed.