The Sweetest Spots to take your Valentine's Date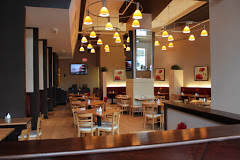 Hang on for a minute...we're trying to find some more stories you might like.
With Valentine's Day right around the corner, many are caught in the panic of choosing an ideal date location to enjoy a meal with their significant other. Not all the restaurants listed will fit your needs, but one for sure might.
The Hudson Cafe.
Located in downtown Detroit on Woodward Avenue, The Hudson Cafe is a breakfast and brunch restaurant that has a wide range menu. They serve pancakes, crepes, and plenty of savory dishes to choose from. It is not a challenge to find exactly what you are looking for and the food is high quality.          
Bahama Breeze.
This restaurant is known for its tropical tastes and island vibe. Bahama Breeze's carribean dishes are located on Big Beaver Road in Troy. With vegetarian meals as notable options, the main bulk of Bahama Breeze dishes include empanadas and steak. The vibe and food of this deserted island in the center of frigid weather will make you feel as if you are sitting on a beach side somewhere warmer than Michigan in February.
The Melting Pot.
The Melting Pot is a restaurant based around fondue. Found in Troy on Big Beaver Road, they offer heated pots of cheese, chocolate or broth for dipping and cooking. While they are known for their fondues, they also have other dishes like salads and steaks, as well as a vegan menu. An all around golden restaurant for cheese lovers nearby.
Cheesecake Factory.
While cheesecake is in the name, there is more to find here than only that. The Cheesecake Factory has lunch specials like salads and flatbread pizzas. But it is almost obligatory in this establishment to finish off a proper meal with a piece of cheesecake. Whether you are a fruit lover and/or a chocoholic, Cheesecake Factory has a cheesecake that is perfect for everyone. Located in Novi in Twelve Oaks Mall, there are over 35 cheesecakes to choose from, including healthier and reduced fat options.
BJ's.
If you are looking to stay in the area for Valentine's Day, BJ's is a great option. Located on Hall Rd., this restaurant is a great place to order dishes such as deep dish pizzas, handcrafted burgers and signature sandwiches.